Daily Pill Organizer Bpa Free Water Bottle
Starting from
$8.99
Regular Price
$11.99
Full Pill Bottle Combination 20 ounce: When all put together we have a full Tritan 20 ounce water bottle that carries you pills together with your water.
Fits 3 standard size pills: Full 7-day pill organizer. Each section holds 3 standard size pills.
Fits easily in the side pocket of a backpack: The smooth easy slim bottle that fits into side pockets on backpacks. Making it even easier to be secure of taking your meds and vitamins no matter where you are.
Easy Cleaning!: Comes apart easily for cleaning and refilling of the bottle.
Complete with a cup: The cover of the bottle doubles as a convenient cup so you have everything you need in one nice neat little package. Making taking pills a breeze whether at the desk in the office or in bed at home.
Made to last through all terrains: Tritan Construction makes this bottle really durable. So take it out on a hike, on a fishing boat or to a picnic in the park. Never forget to take your pills again.
Slides easily in and out: The pill organizer is easily removable if you need to just slip that into your pocket or if you want a nice versatile water bottle.
Daily Pill Organizer Bpa Free Water Bottle
We all need water to take our daily vitamins or pills. Now using a daily organizer is also a must for you to remembering to take them each day. So how about combining your daily pill box organizer with your water bottle so you have everything wrapped up in one cool and convenient product. 
SIMPLE TO ASSEMBLE
The pill organizer is easily removable to make it simpler for you to wash and refill your bottle with water juice or any beverage that makes it easier to take your vitamins or medicine- hand wash
CONVENIENT DAILY ORGANIZER
Made with a built-in pill organizer so you've got the pills the water and even the lid as a cup with at all times. Great for traveling, work or keeping at your bedside.
LARGE CAPACITY BOTTLE
Asobu Pill the organizer comes with a 20-ounce capacity water bottle so you can rest assured knowing you're covered with your pills and water all stored in one cool gadget
SITS EVENLY ON DESKS OR NIGHT TABLES
made with for tiny anchors so your bottle will sit where you put no rolling around. Leave it on your night table and in the morning you'll find it exactly where you left it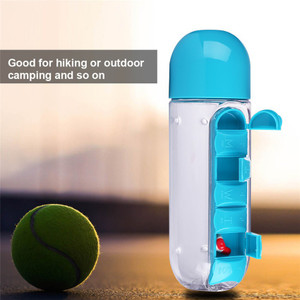 TRITAN NON-BPA MATERIAL
Constructed with virtually indestructible Tritan material this bottle is durable for even the most rigorous traveling
---
Specifications
Product Name:Daily Pill Box Organizer With Water Bottle
Product size:approx. 23.5*6*6cmcm/9.25*2.36*2.36''
Color: Yellow">Yellow/Green/Black/Pink/Red
Material: PLASTIC 
Weight: 150 g
SKU:HH0131
---
Package Includes
1 x Daily Pill Box Organizer With Water Bottle